Listen to the Webpage
The Abilibowater Paper Mill is a legacy of Grand Falls-Windsor's growth and community development. The mill is no longer around as it was torn down, however the memories of it are still around to this day. On January 7th, 1905, the Harmsworth family and the owner of the Newfoundland Railway, Robert Gillespie Reid, came together to form the Anglo-Newfoundland Development Company. This lead to the construction of the mill, which opened up on October 9th, 1909.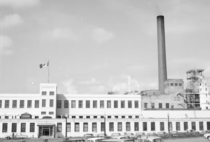 [An old photo of the paper mill, a former staple of the Grand Falls-Windsor economy.]
The mill was used to make sheet paper, and had around 2000 employees at a time, with most of them making roughly $3.85 an hour. Of course, this wage increased over time. Most people left high school to work at the mill, since you didn't need to go through school to work there, and it was an easy way to make a living. However, as time went on, the demand for newsprint started to steadily decline. As a surprise to no one, this lead to the closure of the 100 year old building on Feburary 12th, 2009. On October 6th 2016, the mill was to be demolished.